16 June 2022 - DM SIG Research Seminar - Decision Making and Data: Improving the product design process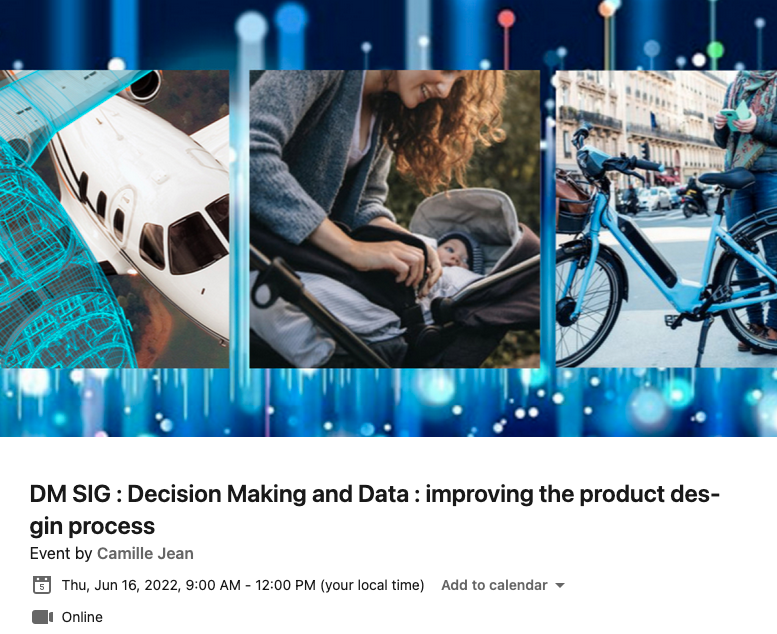 A hybrid research seminar will be organized on the 16th of June (in Paris and on TEAMS). The objective is to discuss and deliver a big and discipline-bridging picture of Decision-Making and Data to improve the early product design process.
Agenda :
Welcome and introductions
Presentation #1 : Alessandro Bertoni, Associate Professor (Biträdade Professor) in Mechanical Engineering at Blekinge Institute of Technology (BTH), Sweden, will share his thoughts on the topic of Data-Driven Design of circular systems through digital twins.
Open discussions
Presentation #2: Tristan Briard, PhD student at Arts et Métiers ParisTech, France will continue by presenting his current work on the challenges for Data-Driven Design in early physical product design with a scientific and industrial perspective
Open discussions
Workshop : Alberto Faveto, PhD Student, Politecnico di Torino, Italy and Jean-René Camara, PhD Student, CapGemini, Arts et Métiers, France will animate a workshop on Data Visualisation and Decision Making.
Summary and next steps
It will be an opportunity to provide all participants an overview of existing state-of-the-art knowledge on this topic and to discuss opportunities to support companies during the product design process.
--
Thankyou for our guest speakers Alessandro Bertoni, Tristan Briard, Jean-René Camara and Alberto Faveto to share their works during our Decision Making SIG Research Seminar 2022. More than 40 participants from 10 countries attended to an hybrid version in Paris and Teams !
Below are some pictures of the workshop :